In line with the basic principles of the European Statistical System, Eurostat has established in cooperation with national statistical institutions a network of national centres called European Statistical Data Support (ESDS). In this way, users are provided with free services allowing them easier access to statistical data on the Eurostat website pages. This service does not include a special data processing.

The Agency for Statistics of Bosnia and Herzegovina cooperates with Eurostat closely. In addition to our national data delivered to Eurostat, we are also a part of ESDS network and we support our users to find data on European Statistics on the Eurostat's website. The replies to users' questions are provided in Bosnian, Croatian, and Serbian language.

How to access European statistical data?

If you cannot find the requested information on the Eurostat's website or if you need additional information, please visit the User Support page. To use the ESDS service, you must first register. User support provides information on whether the required statistical data and information are available and where they can be found on the Eurostat's website. It provides support in verifying data, giving additional information on methodology, and helps in solving technical issues.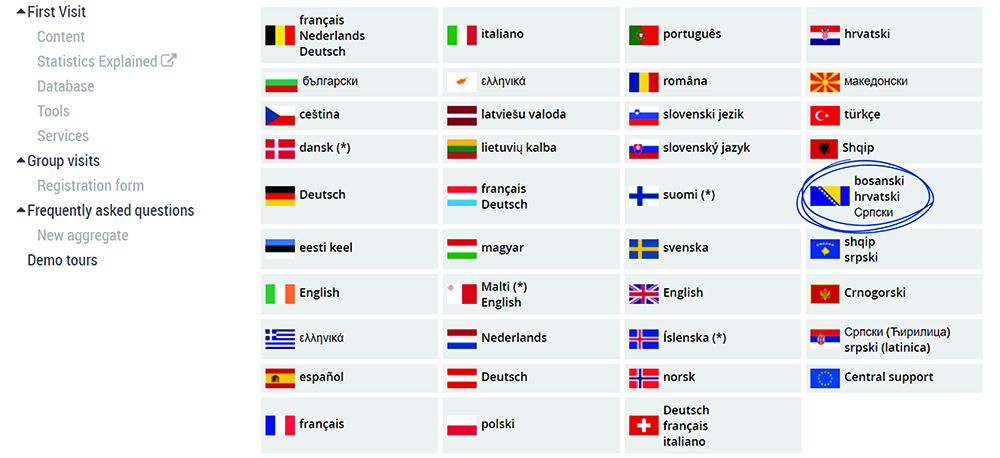 Working hours of the ESDS centre in BiH: Monday – Friday: 8:00 – 11:30 and 12:00 – 15:30
Contact:
National Centre for User Support in BiH
Agency for Statistics of Bosnia and Herzegovina
Zelenih beretki 26,
71000 Sarajevo
Telephone: +387 33 911 929
E-mail: euinfo@bhas.ba
Eurostat ESDS website: User Support - Eurostat

For more information on the services provided by Eurostat , visit: