Pursuant to the Law on Statistics of Bosnia and Herzegovina, Bosnia and Herzegovina Statistical Development Strategy 2020, as well as to other relevant documents, and relying on the Declaration on the quality of European Statistical System, European Statistics Code of Practice (CoP), the recommendations of EUROSTAT's Expert group for quality (LEG) that refer to the system of quality management, Eurostat's Framework for ensuring quality (QAF) and other documents on internationally accepted good practices, Agency for statistics of the BIH is committed to consistent esteem and implementation of the quality policy that is also based on following principles of Total Quality Management Model (TQM):
Monitoring of the Quality of statistical processes and products
Users' satisfaction with statistical data
Strengthening of cooperation with data providers (reducing respondents burden)
Rational usage of resources available
Professional orientation of personnel (education, motivation, and satisfaction)
Agency for Statistics of BiH has started implementing the Generic Statistical Business Process Model (GSBPM) in accordance with the general GSBPM model ver.5.0, which is adapted to the needs of the statistical system of Bosnia and Herzegovina in terms of phases of collection, processing, analysis and dissemination of statistical data. This model provides a standard framework and harmonized terminology that helps statistical organizations to modernize their statistical production processes, as well as exchange methods and components. It is also used to integrate metadata standards, process documentation, to harmonize IT infrastructure, as well as to provide a framework for assessing and improving process quality.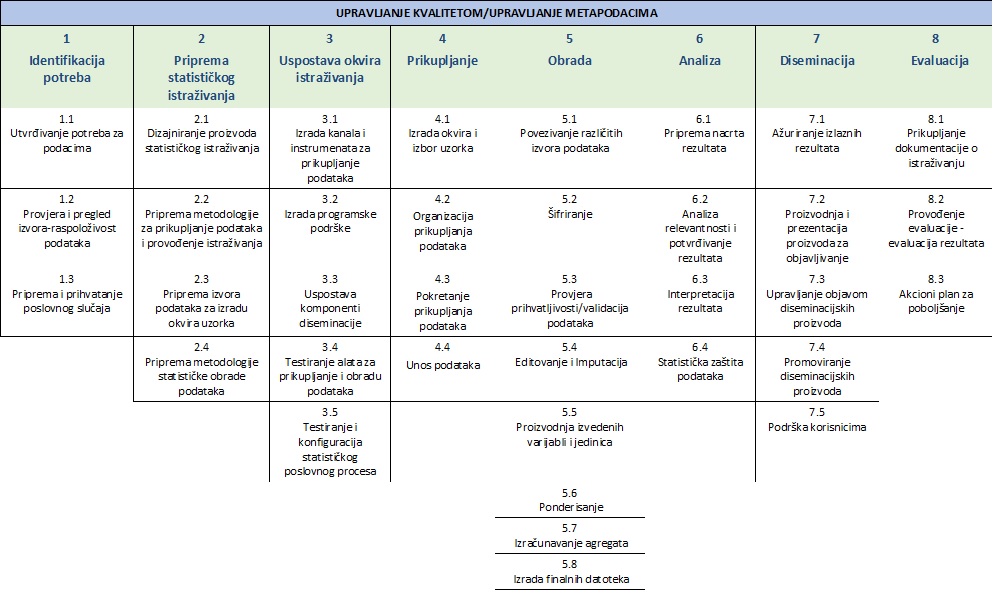 Following the example of many other statistical institutions that have successfully implemented GSBPM in the foundations of the quality management system, the Agency for Statistics of Bosnia and Herzegovina has decided also to also use GSBPM in order to record statistical production monitoring processes. Documenting the process in the Agency will bring many benefits, such as:
clarity and transparency regarding the processes monitored in statistical production;;
achieving standardized and harmonized procedures through analysis and improvement of existing procedures;
development of guidelines on the quality of statistical processes and
improving the overall efficiency of statistical production.
* Available only in local languages